October 23 — 27, 2022


Exhibition:
"Our Apartments, Houses, Cottages, Garages, Offices and Backyards"

1 — 6 pm
In the second last exhibition at the Theater of Hopes and Expectations, the Prykarpattian Theater collective shows the results of the workshops they organized first in Kolomyia, then in Düsseldorf, and finally in Chernivtsi, Düsseldorf's partner city in Ukraine: In all three cities, they invited people to build models of apartments, houses, cottages, garages, offices, backyards, and other buildings and places to which they have a real or imagined connection. In Kolomyia, the workshop was attended mainly by Ukrainians who had fled from the heavily contested east of Ukraine to the west of the country. Due to the current events, they made a political statement in which they worked with the personal loss of their home. In Düsseldorf, the concept opened up: here, the participants also dealt with other narratives in relation to displacement and migration, as people from Syria and Georgia, but also people without direct experience of being a refugee , took part in the workshop. This shifted the focus to individual ideas of the home as a shelter and place of privacy, which in part stemmed from the imagination. The workshop in Chernivtsi, on the other hand, addressed a young audience. The students who became part of the project focused firmly on the future, not the past. At the same time, they put the interior in the foreground - while the participants in Kolomyia and Düsseldorf mainly depicted the exterior views of their houses.
The models from the workshop in Kolomyia are part of the "Wartime Archive", an initiative of the
MOCA NGO.
Workshop participants:
Kolomyia:
Ania Sokolova, Anna Kuzmenko, Anton Hylko and Yevgen Kryshen, Dmytro Koronik, Kateryna Aliynyk, Maria Liukshyna, Marta Bazak, Oksana Yashchuk, Olga Malyshenko and Anton Vozniuk, Serhii and Kostiantyn Mykhailov, Svitlana Ulianova and Oleksandr Ulianov, Viktor Korchynskiy, Yurii Kruglov, Yulia, Yurii and Dominika Mykhailiuk.
Düsseldorf:
Alisa Kulesh, Alisa Shaposhnikova, Gudrun Lehmann, Lika Chkhutiashvili, Ruth Magers, Varvara Mozhaieva, Violetta Terlyha.
Chernivtsi:
Arina Bardetska, Arina Hitchenko, Kseniia Domaleha, Mariia Shalimova, Oleksandra Holdina, Albert Vardevanian, Iryna Penteliuk, Irutsa Slepeniuk, Kateryna Khuda, Yana Baryska.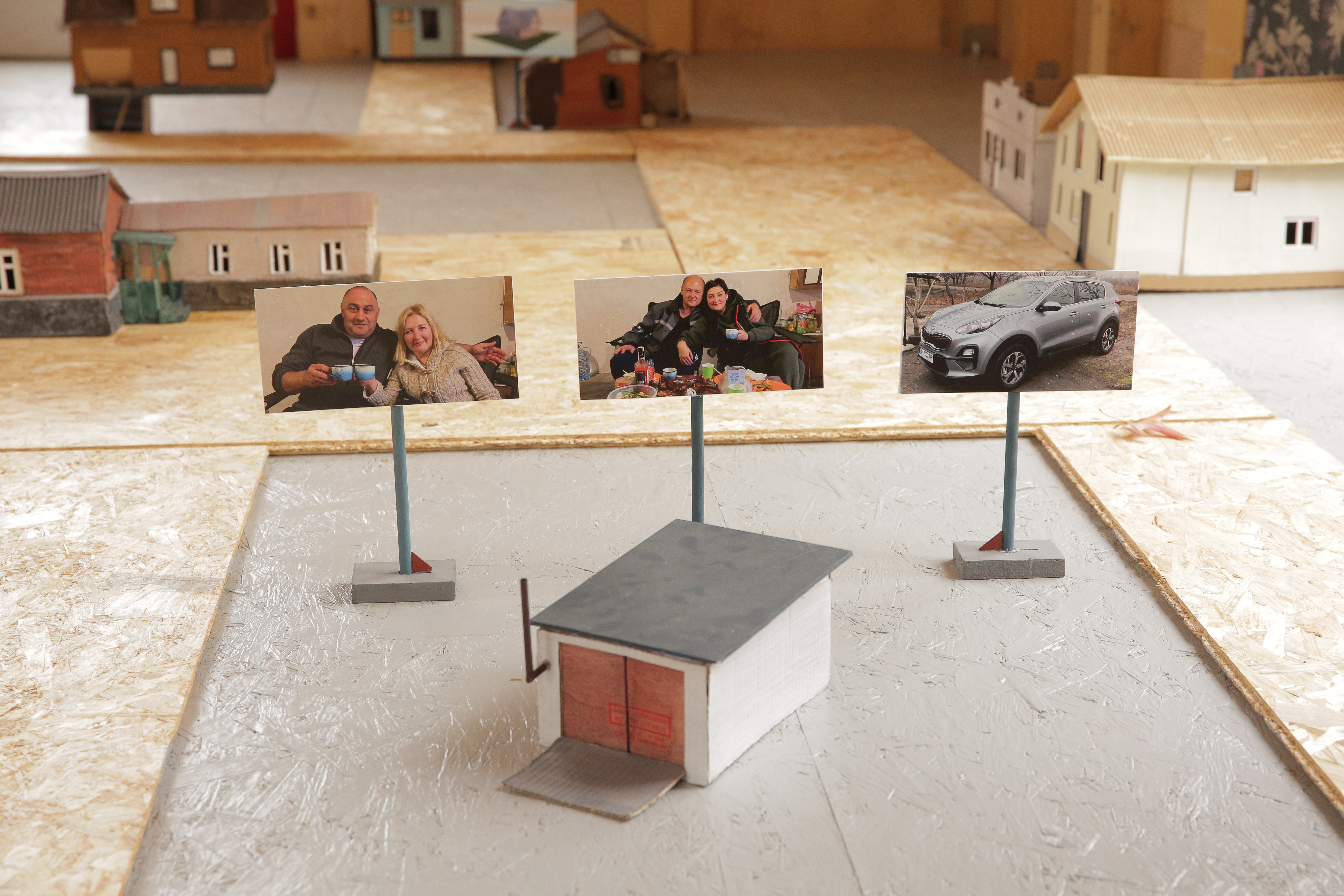 Fotos: Kurt Heuvens